Your first 1TB-ready smartphone
512GB of internal storage with 8GB of RAM
128GB of internal storage with 6GB of RAM
Additional 512GB microSD card can up storage to 1TB
Laptop-sized storage ideal if you're suspicious of 'the cloud' 
It's no surprise that, among the top manufacturers, Samsung is the first to produce a 1TB-ready smartphone, a capacity that rivals the best laptops people buy today. It's Samsung that makes both the internal 512GB flash drive for phones and a variety of 512GB microSD memory cards.
The Note 9 is billed as the phone that will never run out of physical storage space. Uninstalling games and deleting movies you've downloaded isn't something you'll need to worry about here – take all the photos you want at full resolution, and all the 4K video you want, no compromise required.
8GB of RAM is going to work best for Samsung's Dex desktop virtualization mode if you're planning to make use of second-screen workflows. Turning an HDMI screen into a PC-like experience driven by your Note 9 is taxing. But we found Dex to be wholly better on the Note 9 than on the Note 8. The latter subjected you to using a physical Dex dock accessory; this time all you need is a simple HDMI dongle.
Of course, that 512GB storage and 8GB RAM send the Note 9 price skyrocketing; the entry-level 128GB and 6GB of RAM configuration is 'cheaper' by $250. And keep in mind that storage configurations on the box aren't all they seem: at least 19GB of space is gobbled when you boot the phone up for the first time.
It's worth noting that the 128GB Note 9 also supports microSD cards up to 512GB in size, giving you plenty of storage scope with this model as well. (hat tip: Ash E)
At these prices, the questions you have to ask yourself are: Do I really need a 1TB phone? Am I going to also spend money on a 512GB microSD card? And will cloud storage make all of this irrelevant in the future? Anyone who wants to resist saving to 'the cloud' may have a use for these features.
The 4,000mAh battery
Much larger battery at 4,000mAh
Galaxy S9 has 3,000mAh and S9 Plus has 3,500mAh
Fast Charging and Fast Wireless Charging supported
The Note 9 battery capacity has been unshackled, hitting the 4,000mAh ceiling. This is the best Samsung phone you can buy when it comes to battery life.
Samsung is finally comfortable enough to give us a larger battery following the Note 7 recall. It has skimped on the battery capacity ever since, and promises that its eight-point safety check will mean no repeat of the fires we saw two years ago.
Battery life is touted as all-day, but that's for Note power users. After several days of testing we actually saw more than a day of battery life with moderate use. This is good news because while the Note 8 battery life started out as all-day with a bit of conservative use, the battery health naturally depleted over time.
The 4,000mAh capacity gave us more buffer room between nightly charges, and we didn't have to employ Samsung's smart battery-saving tricks to get through the day. Our standard battery test, which involves playing a 90-minute looped HD video – showed the Note 9 battery fell from 100% to 88%, which is 1% better than the S9 Plus. And keep in mind that the Note has a bigger battery, so that 88% is more meaningful here.
While there are two Note 9 storage configurations, the battery size, thankfully, is the same no matter which version you buy. You also get Fast Charging and Fast Wireless Charging capabilities. As much as we appreciate wireless charging, Fast Charging with the included USB-C cable is always faster, with the following rates in our tests.
Recharge rates
15 mins: 17%
30 mins: 37%
45 mins: 52%
60 mins: 70%
75 mins: 83%
90 mins: 90%
105 mins: 98%
1h 49 mins: 100%
We have to put those numbers into context a bit. It's fast, but it's not the fastest-charging phone among the top flagship handsets. That title belongs to Huawei and OnePlus at the moment.
Also, if those rates seem slow, remember the Note 9 has a bigger battery than most mainstream phones (excluding phones in China that never come west, and battery-focused variants, like 5,000mAh phones from Asus and others). It charges plenty fast, even if Samsung no longer has the fastest charging tech out there.
Design and display
Expansive, bright 6.4-inch display with minor dimension changes
Includes fingerprint sensor, microSD slot and headphone jack
Better-aligned rear fingerprint sensor could be bigger and the Bixby button should be smaller (read: eliminated)
Samsung's Super AMOLED display doesn't need to change much to look really great. It's consistently the best smartphone screen in the world until the next Samsung phone launches – every year.
The 6.4-inch Note 9 screen has grown by a tenth of an inch over the 6.3-inch Note 8 display, although it's a change few will notice without breaking out the measuring tape (which we used in our testing).
The nearly bezel-less Infinity Display is bright and punchy, and confirmed to be 27% brighter and with 32% more contrast ratio than the Note 8. And, even if the tall 18:9 aspect ratio (or in this case 18.5:9) is on just about every flagship phone in 2018, Samsung's curved edges are unmatched.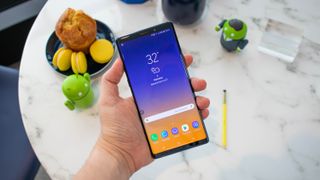 The size of the Note 9 has changed from the Note 8, too, but maybe not how you think. It's slightly wider, and slightly shorter, than the Note 8, with dimensions of 161.9 x 76.4 x 8.8mm (the Note 8 was 162.5 x 74.8 x 8.6mm).
The Note 9 fits into the pockets of regular jeans shorts just fine. Caution, hot pants wearers: shallow back pockets smaller than this 162.5mm-tall phone left it sticking out when we wore certain shorts. Cases make it bigger still, and it weighs a bit more than the Note 8: 201g vs 195g. This isn't a small or light phone, but it's more comfortable to hold than the S9 Plus in some respects thanks to its boxy, less rounded-off design.
Here are two features Samsung gives you that you don't get on the similarly priced iPhone X: a headphone jack and a microSD card slot for expandable storage.
The Note 9 is IP68 waterproof and dust-proof, and that resistance rating stays the same whether or not the S Pen is embedded. New to the Note 9 over the Note 8 are stereo speakers (just like on the S9 and S9 Plus).
Here's something else you won't get from Apple's top phone: a fingerprint sensor that acts as an alternative to Samsung's iris scanner and Face Unlock. Even when combined, those two sensors don't work as well as Apple's Face ID, so the fingerprint sensor staying put is extra important for Samsung.
The fingerprint reader is on the back of the Note 9, and centrally located this time. The Note 8 had a sensor on back, too, but it was off-center, and led to lots of camera smudges. We hated it.
The good news is the fingerprint scanner on the Note 9 is easier to locate, and our forefinger landed on it nicely. But Samsung can do better. The landing area is too small, and still too close to the camera array (having a Note 9 case helps here too). We would have preferred a larger target area, like the Google Pixel 2 offers.
Specs and performance
Same chipset as the S9 Plus, but an upgrade for Note 8 users
Doesn't offer the top clock speed among smartphones
The Note 9 specs also include a chipset that's an upgrade over the Note 8, giving us what's at the heart of the S9 and S9 Plus: either the Qualcomm Snapdragon 845 (US and China) or Samsung Exynos 9810 (everywhere else). It's country-dependent, just like the colors, so you have no choice here.
Luckily, we found the chip fast for 3D games like Fortnite on Android and for muti-tasking. Geekbench software gave us a multi-core score of 8,875, whereas last year's phone clocked in at 6,524 – those numbers are for the Qualcomm chip.
There's a bigger performance jump in the UK and elsewhere, due to the Exynos 9810 chip. We got an average multi-core score of 9,051 and single-core score of 3,698. We haven't noticed any performance lag in the US, though.
That said, the OnePlus 6 gave us a multi-core score of 9,100, and the iPhone X reigns supreme, hitting over 10,000 in all of our tests. Samsung doesn't have the fastest chip, but it's plenty fast, and keep in mind that we have the 6GB of RAM Note 9 – there may be a bit more to the 8GB version.
Camera
Inherits the S9 Plus camera's dual-aperture features
Wide-angle and telephoto lenses on back
AI-backed scene optimizer enhancements show promise
Samsung is carrying over its camera prowess from the Galaxy S9 Plus to the Note 9, with low-light defeating and telephoto-zooming camera lenses on the back. This is one of the best camera phones you'll be able to buy in 2018.
The S9 Plus gives you an idea of the photo quality you can expect from the Note 9, though Samsung has tweaked its software to improve on that quality. It automatically makes small, but meaningful differences to the white balance of images by recognizing what you're shooting.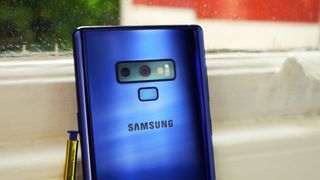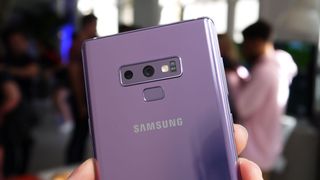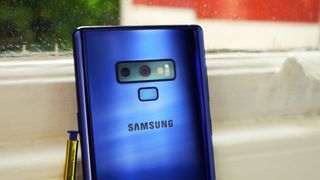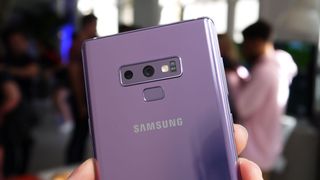 The dual 12MP rear camera uses variable-aperture technology to switch between an f/1.5 aperture for low-light photography and an f/2.4 aperture for normal lighting conditions. The S9 Plus gave us positive results even in the darkest settings, based on this same technology.
Great bokeh and focus on the food – the camera was able to pick up that the subject was food and adjust the white balance automatically
The Brooklyn Bridge is there, but kind of far away. Time to use the Note 9 telephoto lens…
The second rear camera lens is dedicated to optical zoom, which gets you two times closer to subjects without moving a muscle. The Brooklyn Bridge is the focus of our frame.
More tests of the Note 9 rear camera zoomed out. There are jet skiers on New York City's East River.
And now the camera zoomed in on the jet skiers. A 2x zoom isn't always going to do it for you, but it's better than digital zoom, which can distort photo quality.
The secondary rear camera allows for a 2x optical zoom, giving you sharp telephoto snapshots for when you're standing too far away. The aperture here is always set at f/2.4, and like the main lens it has optical image stabilization (OIS) to make up for your shaky hands. Noise-filled night-time shots on the telephoto lens were our only issue – everything else outside of low-light remains crisp.
The Note 9's front-facing camera does selfies at 8MP and includes autofocus, a first for a Note phone. Samsung fills its camera app with an endless number of mode options, too: AR stickers, wide group selfies, and Super Slow Motion video at 960 frames per second at a 720p resolution. It's one of the most robust camera apps in the business, yet easy to use.
Our first remote photo with the Samsung Galaxy Note 9 camera and the Bluetooth S Pen. It's actually fun and useful
Again, all photos snapped with the S Pen while enjoying some pizza for dinner near the TechRadar office
Holding the phone and manually snapping photos with the on-screen shutter button? That's so Note 8
Here's a building being built. The Note 9 battery lasts a long time, but not long enough to capture its completion in a hyperlapse.
Shots are very detailed. We're eager to test out the low-light performance when it gets dark
Launching the camera app is still incredibly easy. Just double-click the sleep/wake button and the phone instantly opens up the camera app. It's a great shortcut
The Samsung Galaxy Note 9 camera identifies and adapts to various subjects with a new scene-optimizer feature. It adjusts the white balance and color based on 20 subjects as varied as sunsets, flowers, food, birds, text and so forth. Compared to even the six-month-old S9 Plus, we saw the Note 9 camera capture a bit more detail, but you're going to have to squint to see the differences.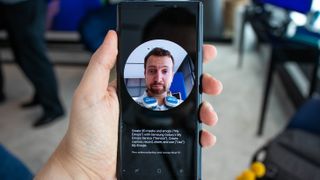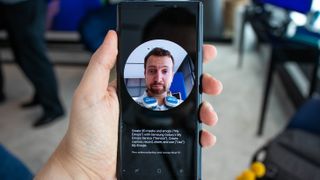 The camera understands what it's looking at (more accurately than the AI camera in the LG G7), and it uses the same technology to help you correct flaws, including eye blinking, image blurring, lens smudges, and backlight. A pop-up warning message told us to clean our dirty camera lens, and told us we blinked in shots.
Here's our biggest complaint camera-wise: while rival Android handsets can record 4K HDR video with 64 times the color data compared to current 4K video. the Note 9 can't. The Snapdragon 845 chip supports HDR video recording, but Samsung's own (faster) Exnynos 9810 chip doesn't, so the feature is turned off worldwide. We're going to have to wait until the Galaxy S10 for superior, color-rich video that really pops.
Android, interface and apps
Comes with Android Oreo, just misses Android Pie
Fortnite was exclusive (for a very limited time period)
Samsung Pay, Bixby AI, and AR Emoji are present
Samsung just missed the Android 9 Pie launch, meaning the Galaxy Note 9 comes with Android Oreo. Not that you'd notice, as Samsung puts its own spin on Android.
And that's no longer a bad thing. The Samsung Experience software is well refined in 2018, with helpful cues on how to navigate a deep and complex operating system. It's much better than the bloated Samsung TouchWiz firmware on its old Android phones, and everyone who hates on the software today likely hasn't touched a Samsung phone in years.
Samsung devices (Galaxy S7 and up) were the first with access to the free-to-play hit game Fortnite: Battle Royale. The short, 48-hour exclusive was designed to give other Android users phone envy, and even now, after the Samsung exclusivity has expired, they still have to sideload the app – it's not downloadable in the Google Play Store. Beyond that, the Note 9 and Tab S4 have an exclusive Fortnite skin that lasts forever.
Samsung Pay is the other app worth noting. It continues to be our favorite way to make contactless payments, simply because you can pay for things at card machines that don't normally accept Apple Pay and Android Pay. Why no one else has hopped on this MST (Magnetic Secure Transmission) technology is beyond us.
The Bixby AI assistant is here, and so is Google Assistant. Google's AI is smarter and understands us better, whereas Bixby often picks up our words as if we said them with marbles in our mouth. Samsung says this is pre-release software, so we'll come back and update this portion of the review on August 24.
The good news is that Bixby is able to navigate the UI better, going as far as to download apps from the Google Play Store (other AI will just bring you to the app page and sit there when you ask to download something). If that Samsung Galaxy Home speaker is going to launch any time soon, the company needs to improve Bixby first, and we hope it'll get rid of the insufferable Bixby button that we often mistake for volume down. It's basically this year's version of the offset fingerprint sensor we chastised Samsung for on the Note 8.
We had to inquire about AR Emoji to get details about the avatar refinements. They're here. We tested them. Bixby and AR Emoji are not showstoppers for the Note 9, even though Samsung couldn't stop mentioning them six and 12 months ago.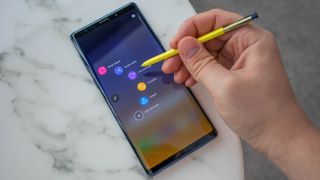 Note 9 camera samples
We've thoroughly tested the Note 9 camera over the course of a week, and did it while wielding up to five other smartphones.
Samsung Galaxy Note 9
Note 8
S9 Plus
iPhone X
Google Pixel 2
Huawei P20
It's certainly among the best, and you can tell that the Note 9 does improve on the Note 8 and even the S9 Plus. This is because of the AI scene recognition software that tweaks the color and white balance based on the subject. It wasn't perfect – it did turn lights from some buildings yellow in one instance – but overall, we got more detail and less blowout from low-light shots.
Selfies without much light can appear soft, and the camera app will actually warn you that your last photo may appear blurry. Let's take a look at a second take.
Putting the phone further away increased the amount of light the 12MP camera was able to absorb. It also fit more in the frame (crane game winnings).
Low-light photos using the rear 12MP camera bring up the shadows, as if we were using Lightroom in real time.
Bright photos are sharp. Not overly sharp like we've experienced with the Huawei P20 at times.
Snapping a photo in a moving car proved the Galaxy Note 9 camera is fast when it's necessary. Smartphone cameras have really grown up.
Using the telephoto lens we were able to spot a bear (black spot on the middle left between the trees). It zooms in by 2x. The Huawei P20 has the advantage of using a 3x zoom lens, which we could have appreciated in this situation.
Here's another photo of the bear, moving further center between the trees. If there's one thing we could see Samsung improved in 2019, it's the telephoto lens, especially with Huawei pushing the envelope. You may have to wait until a Galaxy S10 Plus or even the Galaxy Note 10.