Display
6.2-inch Quad HD+ Super AMOLED curved screen
90% of the front of the phone is now screen
No in-screen fingerprint sensor here
Samsung's 6.2-inch display on the Galaxy S9 Plus is as expansive as it is impressive. It's unchanged from the company's previous Infinity Display – but that's held up to be a fantastic screen, so that's okay with us, too.
Its tall 18.5:9 aspect ratio has set the standard for all-screen smartphones. It can display a Quad HD+ resolution, yet it still looks outstanding at the default Full HD 1080p. It's the combination of the futuristic-looking curved edges, vibrant colors, and high contrast ratio that make it pop.
We also appreciate the fact that Samsung has created a screen that fills 90% of the front of the S9 Plus. There's very little bezel here, and no notch whatsoever, which makes it feel like you're holding one large, beautiful light beam in your hand.
That beautiful beam of light is prone to occasional false touches, which we experienced due to a combination of the curved screen and our firm grasp of such a big phone. It's no fun watching text messages disappear only because our pinky finger glanced the backspace key (which happens to be right near the edge) while we tried to clutch this massive 6.2-inch display.
AR Emoji
Samsung's answer to Apple's Animoji is a little half-baked
Easy to save and share on any third-party application
Like it or not, Samsung's answer to Apple's Animoji is here on the Galaxy S9 Plus with the debut of AR Emoji. This uses the front 8MP camera to analyze a 2D image of you and then maps more than 100 different facial features to a 3D avatar.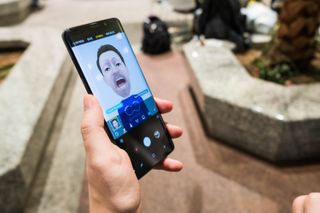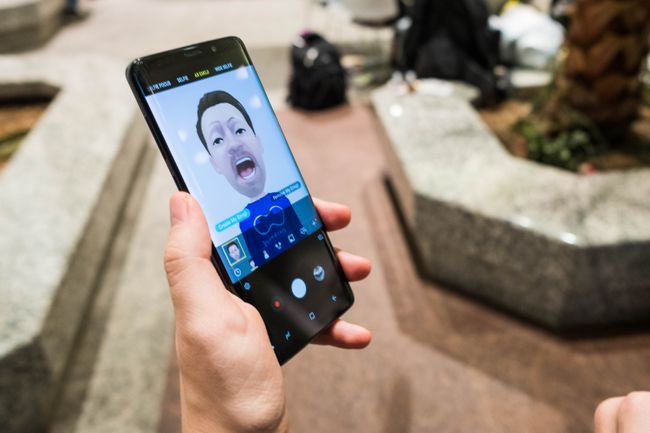 Samsung's take on AR masks do mirror facial expressions onto a customizable avatar, but do so rather stiffly using its single camera and software-based algorithms. AR Emoji movement can't compare to Apple's iPhone X TrueDepth camera array.
The good news is that it's easy to send AR Emoji messages to friends. Samsung has chosen to record your expressions (whether a custom message or a pre-made one) in the universal GIF format. Friends/former friends who own non-Samsung handsets will be able to enjoy/loathe your constant AR tomfoolery.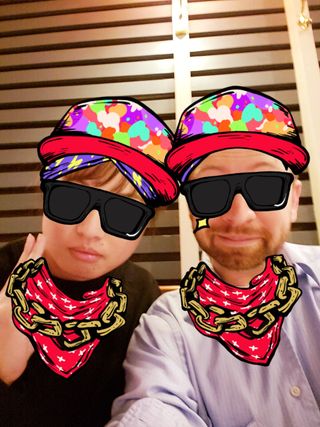 The feedback from friends? Our AR personas failed to look like us no matter how many times we ran through the creation process, and we found AR Emojis to be the least convincing reason to buy the Galaxy S9 Plus – the novelty quickly wears off.
You will find more variety to Samsung's AR Emoji menu the deeper you look, though. In addition to being able to change the gender, skin color, and hairstyle of your human avatar, you can cycle through creative AR stickers, in case you want to go full-on bunny rabbit or wear a more gangster outfit complete with sunglasses, chains, hats and bandanas. This is Samsung's take on what Snapchat can do, and it's at least a little more creative.
Bixby
Bixby Voice is a very smart assistant that doesn't always listen well
Bixby Vision can provide live translations with okay results
Internet connection required for features to work
The S9 Plus launches with Bixby Voice and Bixby Vision built-in, an improvement over last year's Galaxy phones that saw Samsung's AI feature defanged for several months.
What's here from day one is a sometimes-convincing virtual assistant meant to rival Siri and Google Assistant. It can actually do a bit more by following through on commands – asking it to "Open Twitter and tweet 'This is what it's like to be the only one in the @futureplc NYC office on a snow day #SamsungGalaxyS9'" let me dictate my tweet without requiring me to open the app or type.
Apple and Google's AI can't follow through like this. However, both can understand me better than Bixby, and that's a big deal. You see, Bixby kept thinking I said 'Future peel see' when I was dictating that tweet, and when asking it to "Send an email to Gareth Beavis with the subject: 'How's your Galaxy S9 review coming?'" it got everything right but ended the subject with 'question Mark.' Bixby is like a smart student who routinely fails to listen.
Bixby Vision breaks ground with features like live translation. You can decode a foreign language sign or menu by pointing your camera at it – all without snapping a photo and waiting for it to translate. It's good news for travelers, though you'll need data to power this internet-connected feature and its Google Translate backend is far from reliable. It's helpful in a pinch, but we found asking for the English menu so much easier.
Bixby Vision will also continue to name and detail landmarks through location-aware smarts and attempt to identify food – and it now has the helpful (or shame-inducing) power to inform you of the amount of calories in that food. But its ability to correctly name foods is more of a joke than a reliable tool when it guesses that a lollipop is a corndog.
The 8MP front-facing camera is put to use if you'd like a makeover. Bixby Vision has a new makeup mode, overlaying various blushes, mascara, and lipsticks via partnerships with the CoverGirl and Sephora cosmetics brands. It's an augmented reality feature designed to "guide you through the purchase flow," notes Samsung. It seems like more of a neat tech demo for your new phone, and not a convincing use of the 'AI' buzzword.
Improved biometrics
Face unlock and iris scanner now work at the same time
It works okay, but the success rate trails Apple's Face ID
New to the S9 Plus is the fact that the face unlock and iris scanner biometrics now work at the same time to unlock the phone. This is Samsung's answer to Apple's Face ID technology.
It works most of the time. Whenever our eyeballs and mug were looking down at the phone it opened very quickly, except when we were walking in bright sunlight – and, that's just the sort of situation where you'll want to recheck Google Maps or quickly reply to a message to say "I'm on my way."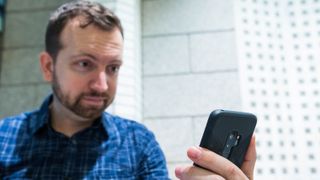 We've had similar issues with Face ID on the iPhone X and experience more here. Even a 95%  success rate out of 100 unlock attempts in a normal day means it'll fail five times every day, and that's annoying. Samsung's face unlock technology has also been spoofed in the past, so enabling it could leave you vulnerable even if it's not exactly easy to crack.
None of these 'futuristic' options are as seamless as unlocking your phone through a  good old-fashioned front fingerprint sensor – technology that both companies retired from their phones last year. At least Samsung includes a rear fingerprint sensor as an alternative unlock method.
Here's something funny we picked up on while testing the S9 Plus: Samsung now lets you optionally hide notification content until the scanners recognize your eyes or face. That's great for privacy, but as soon as it does recognize you it'll bypass the lockscreen, and you'll have to revert to pulling down the notification shade. Apple had a very similar issue when Touch ID Gen 2 performed too well and lockscreen notifications disappeared before anyone got to read them.
New speakers
Stereo speakers finally catch up to what Apple did on iPhone 7
40% louder than the single bottom-firing S8 Plus speaker
Still not as crisp a sound compared to iPhone X speakers
You can't really see it, but the Galaxy S9 Plus, along with the Galaxy S9, has stereo speakers, a first for a Samsung flagship and, frankly, a long- overdue addition for the world's smartphone leader.
Samsung-owned AKG Acoustics has finely tuned the brand new top earpiece speaker and the returning bottom-firing speaker so that they're 40% louder than the single speaker on the S8 Plus. And support for Dolby Atmos brings simulated 360-degree sound to the new smartphone.
These two S9 Plus speakers are plenty loud, and sound almost as crisp as the iPhone X speakers in our audio tests. Apple has been outfitting its phones with stereo speakers since the iPhone 7, so we're just pleased to see Samsung catch up.
The best part about having stereo speakers in the Galaxy S9 Plus? You won't accidentally mute all sound from the bottom-firing speaker when holding the phone in landscape mode. That's been a constant issue with past Samsung smartphones.
Interface and specs
New chipsets are 30% faster and S9 Plus has 6GB of RAM
Android 8.0 Oreo is here, don't expect Android P for months
64GB or 128GB of internal storage (region dependant)
The Galaxy S9 Plus is the fastest Android phone we've tested thanks to the fact that it uses the Qualcomm Snapdragon 845 chipset (in the US and China to support both CDMA  and GSM carriers) or Samsung's own Exynos 9810 (globally for GSM carriers).
Both 10nm chips are the latest and greatest in smartphones right now, and they're coupled with 6GB of RAM, compared to the 4GB in the S9. You'll have more headroom to multitask on the 6.2-inch screen, enjoy flawless 3D gaming, and run virtualized applications on Samsung Dex.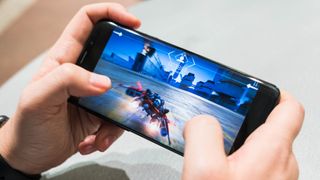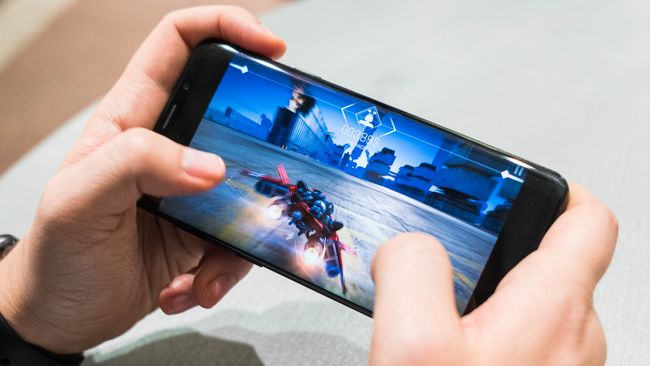 We saw a 30% speed boost over the S8 Plus and Note 8 performance in benchmarking apps that push the chip cores to their limit. And more importantly, in real-world experience we didn't see a hint of slowdown. That can change over time with any phone (as applications become more robust), but Samsung outfitted the S9 Plus to be future-proof.
Don't worry about the overbearing software this year. The Galaxy S9 streamlines menus as part of a fairly bloat-free Android 8.0 Oreo software skin, now known as Samsung Experience (it's not called TouchWhiz anymore and not nearly as big of a turn off next to stock Android). Just don't expect the Android P update for months if not a whole year.
We like pretty much everything about Samsung's version of Android except its default keyboard, which routinely suggests wrong or randomly capitalized words. iOS 11 has this issue, too… maybe this is another way Samsung is trying to emulate Apple in 2018.
You're getting either 64GB (US) or 128GB (everywhere else) of internal storage in the S9 Plus, and a spot for a microSD card so you can add up to 400GB of additional space. With LG and Apple now upgrading their devices to 256GB (for a higher price), this is the one area in which Samsung has held back, especially in the US. A microSD card becomes a must if you're looking to shoot an ample amount of 4K video.
Camera
World's first f/1.5 aperture on a phone
Dual-aperture technology works like the human eye
960fps slow-motion video capture is fun, but grainy
Samsung is ready for all of your nightmarish low-light photo scenarios with the Galaxy S9 Plus camera and its new f/1.5 aperture – a world's first for a smartphone camera.
Its magic is Dual-Aperture technology, which switches between an f/1.5 aperture (pulls in more light for darker scenes) to an f/2.4 aperture (reduces the amount of light captured to keep photos from becoming overexposed). Samsung says its mimicking how the human eye adjusts to light.
The S9 Plus is now able to soak in 28% more light with 30% less noise compared to the S8 Plus. It also has the benefit of Samsung adding DRAM to its image sensor stack, allowing photos to be made up of a composite of 12 frames instead of 3 frames. Samsung has made significant camera hardware changes, as opposed to LG's pure software AI approach with the new LG V30S ThinkQ, and the results speak for themselves.
All of this groundbreaking camera trickery means it looks as if someone turned on more lights in your dimly lit pub and moody restaurant photos. In fact, you're going to see the brightest photos  yet from a smartphone using the Galaxy S9 Plus, and very little of the noise we're all used to seeing when phone makers artificially amp up the brightness.
There are sacrifices at f/1.5, however. Photos can look over-processed, with smoothed or waxy skin and an overall lack of texture, at night. It's also easier to spot glaring motion blur, even if your subjects are hardly moving. Photos are brighter than ones we shot on the iPhone X and Google Pixel 2 XL, but Samsung's camera does like to omit texture in the name of brightness. It really comes down to a photo style preference.
Rear-facing camera samples
Battery life
3,500mAh battery
Same all-day battery life as the Galaxy S8 Plus
Fast Charging was speedier in our tests
We've tested the Samsung Galaxy S9 battery, and it's a lot like the rest of the phone: it matches what we saw from the Galaxy S8 Plus a year ago. That translates into all-day battery life.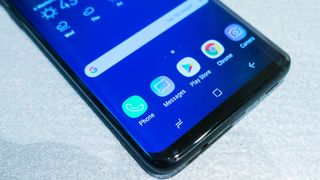 It has a 3,500mAh-capacity battery – the same as last year's phone – and it's still bigger than the 3,000mAh- and 3,300mAh-equipped Galaxy S9 and Note 8. It's the biggest battery you can get in a newer Samsung flagship. We were hoping to eke out a few more hours courtesy of the new more efficient chipsets that power the S9 and S9 Plus, but that hasn't happened.
Samsung, once again, isn't pushing the boundaries of its battery capacity, perhaps understandably given its missteps with the explosion-prone Galaxy Note 7. However, it has slightly improved charging times, according to our tests.
In our lab test, running a looped HD video for 90 minutes, the battery sank from 100% to 87%, the exact 13% decrease we saw from last year's Plus-sized Samsung phone. However, it has slightly improved charging times, according to our tests.
Fast Charging the S9 Plus with the included charger for just 15 minutes brings it from 0% to 19%, and 30 minutes gets it to 38%; at 45 minutes, the phone gets up to a comfortable 58%. In the end, it takes one hour and 41 minutes to reach 100%, the same as the Galaxy S8 Plus. But from a dead battery, it charges faster at those crucial lower levels.
Samsung also supports fast wireless charging, and sells a bunch of wireless charging pads. Its Qi wireless charging method still isn't as quick as wired charging speeds, but it's faster than you can wireless-charge an iPhone X.